Antique Maps by Alexis Hubert Jaillot (*1632 -
†

1712)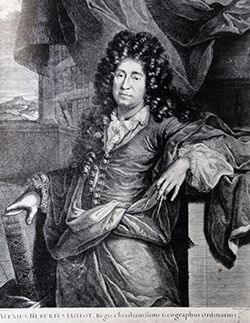 Hubert Jaillot, one of the most important French cartographers of the 17th century, was born 1632. He had a partnership with Nicolas Sanson's son and re-published and re-engraved many Sanson maps. The Atlases and map mainly have been printed by Pierre Mortier in Amsterdam but also in Paris. He died 1712 in Paris.
Alexis Hubert Jaillot: Carte Particuliere des Environs de Mons

Paris, circa 1740

A very detailed plan of the surroundings of Mons in the Province Hainaut by Jaillot. Extremely detailed with forests, fields, roads, buildings and waterways in the vicinity of the walled city of...

11139

Antique map of Mons. Printed in Paris circa 1740.

Alexis Hubert Jaillot: L' Asie divisee en ses Principales Regions, et ou se peut- voir l' estendue. Des Empires,...

1696

Attractive large map of Asia, by Jaillot and Sanson. Forth state dated 1696.

10053

Coloured map of the Asian continent. Printed in the year 1696.

Alexis Hubert Jaillot: Amerique Septentrionale divisee en ses Principales Parties

1719

Attractive map of North America. By Jaillot and Sanson. California between island and peninsula. Pacific Northwest unexplored. Old outline colour.

10051

Coloured map of North America. Printed in the year 1719.