Antique Maps by Leonhard Euler (*1707 -
†

1783)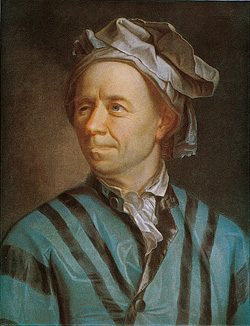 Leonhard Euler was born 1707 in Basel and has been one of the most famous mathematician. From 1720 he studied at the University of Basel by Johann Bernoulli. From 1727 he was Professor for Mathematics and Physics at the University of Saint Petersburg. 1741 he followed a call of Frederick II of Prussia to the Berlin Academy. After 25 years in Berlin he left for Saint Petersburg a second time. He died 1783 in Saint Petersburg.
Leonhard Euler: Atlas geographicus omnes orbis terrarum regiones in XLI tabulis ... / Atlas géographique...

Michaelis, Berlin, 1753

First edition of the rare Atlas by the famous mathematician Leonhard Euler. The second edition was published in 1760 with 44 maps, followed by the third unaltered edition in 1777, which was printed...

11294

Rare Atlas of the Mathematician Leonhard Euler in outstanding conservation

Leonhard Euler: Geographischer Atlas bestehend in 44 Land-Charten, worauf alle Theile des Erd-Creyses...

Christian Ludewig Kunst, Berlin, 1760

Rare school atlas by the famous mathematican Leonhard Euler. It was the most successful project of the "Royal Academy of Sciences" in Berlin. First edition was published in 1753, titled 'Atlas...

10027

School atlas of the Mathematician Leonhard Euler with 44 engraved maps. Second edition, published 1760 in Berlin.