Antique Maps by Jan Huygen van Linschoten (*1563 -
†

1611)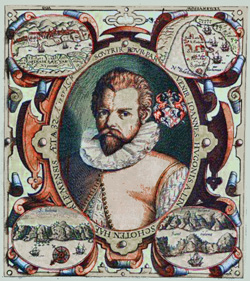 Jan Huygen van Linschoten was born 1563 in Haarlem and spend five years in Goa, India. After he came back to Holland he published a history of his journey with important maps from Portuguese source. He died in 1611.
Jan Huygen van Linschoten: Cochini Rex elephante vectus, cum procerum comitatu, quos Nairos vocant. / Die Coninck van Cochin...

circa 1638

Large beautiful engraving from the famous "Itinerario" by Jan Huygen van Linschoten. Showing solders from Cochin, Kerala, India on an elephant. Latin and Dutch text on lower edge.

10134

Copper engraving of traditional costumes. Cochin, India. Printed circa 1638.