Why you can trust on us
Certificate of Authenticity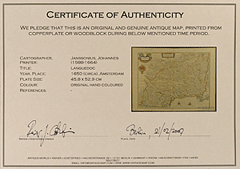 All offered items are guaranteed to be authentic prints or manuscripts made at or near the given date. For all items purchased, we supply descriptions and Certificate of Authenticity.
100% Money Back Guarantee
If you are not satisfied with your antique book or map for any reason, simply return the item to us within 4 weeks and your payment will be refunded.
Your security is important for us
Your order on this web page will be secured by 256-bit encryption. All personal data as name, address or email will be transferred encrypted. In case you want to pay by credit card, your credit card information will not be stored in our system, the data will be transferred via encrypted channel directly to the credit card company.