Antique Maps by Johann Baptist Homann (*1664 -
†

1724)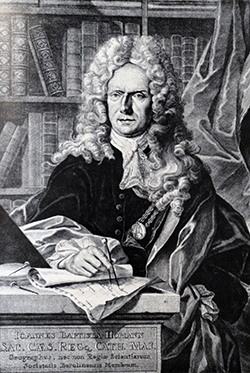 Johann Baptist Homann was born 1664 in Oberkammlach. He founded his business 1702 in Nuremberg, Germany. After a long period of Dutch domination in map publishing, the Homann publishing house became the most important map and atlas producer in Germany. He became a member of the Academy of Science in Berlin just after he published his first atlas in 1707. After his death 1724 in Nuremberg, the company was continued by his son Johann Christoph. The publishing firm was bequeathed to his heirs after his death in 1730 and was traded under the name Homann Heirs until the next century.
Johann Baptist Homann: Atlas Novus Terrarum Orbis Imperia, Regna et Status exactis Tabulis Geographice demonstrans /...

Homann Erben, Nuremberg, 1731

Monumental Atlas of the World with 100 Maps by Johann Baptist Homann. All Maps Coloured by an 18th-Century Hand.The magnificent Atlas Novus or Grosser Atlas was first published in 1716 by...

12698

Germany's most famous 18th-century world atlas. Published 1731 by Homann in Nuremberg.

Johann Baptist Homann: Potentissimae Helvetiorum Reipublicae Cantones Tredecim cum Foederatis et Subjectis Provinciis

Homann, Nuremberg, 1732

Beautiful detailed map of Switzerland, showing the 13 cantons. The large title cartouche showing 13 coat of arms of the cantons and 20 coat of arms of the large cities. Second cartouche with scene...

10158

Old coloured map of Switzerland, Swiss. Printed in Nuremberg by Homann in 1732.

Johann Baptist Homann: Theoria Planetarum Primariorum

Nuremberg, circa 1746

Hand coloured copper engraving from J.G. Doppelmaier by J.B. Homann, showing orbit of the planets.

10001

Doppelmaier's map of the orbit of the planets. Published in Nuremberg by J. B. Homann in 1746.